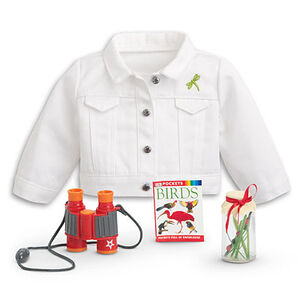 Lanie's Nature Set is part of Lanie's Collection and, like her, was available for one year before retirement at the end of 2010. The retail cost was $26.
Jacket
White button-up denim jacket. Pocket flaps at breast seams. Four round silver buttons with stars. Embroidered green dragonfly logo on left breast pocket.
Binoculars
Red and orange plastic binoculars. Clear lenses. Black nylon cord with plastic snap.
Book
Abridged version of Birds.
Jar
Clear plastic insect jar. Interior of grass and stick with ladybugs. Mesh over lid with red ribbon.