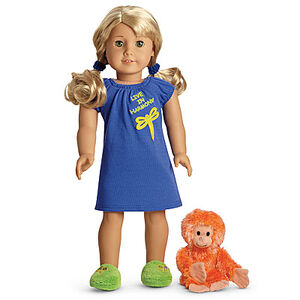 Lanie's Nightgown and Orangutan are part of Lanie's Collection and was available for one year before retirement at the end of 2010. The retail cost was $28.
Nightgown
Short-sleeved, dark blue nightgown. "Live in Harmony" embroidered on the left side of the chest above a yellow dragonfly.
Slippers
Light green slippers embroidered with dragonflies. Elastic in the back.
Hairbands
Two dark blue hair-ties.
Orangutan
An orange plush orangutan.
The matching outfit was available.
Nightgown: $34
Slippers: $22
Ad blocker interference detected!
Wikia is a free-to-use site that makes money from advertising. We have a modified experience for viewers using ad blockers

Wikia is not accessible if you've made further modifications. Remove the custom ad blocker rule(s) and the page will load as expected.