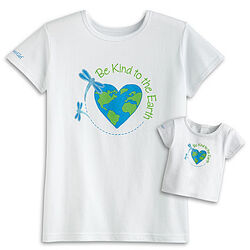 Lanie's White Tee Set is part of Lanie's Collection and was available for one year before retirement at the end of 2010. The retail cost was $29 for the set.
Doll's Shirt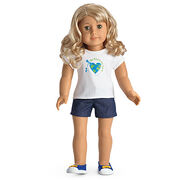 White short-sleeve tee. Heart-shaped earth graphic. "Be Kind to the Earth" printed on the left side of the shirt. Two dragonflies graphics on right side of the shirt. American Girl printed on right sleeve. Velcroes up the back.
Girl's Shirt
Identical white tee to match the doll-sized shirt. Glitter-print dragonflies graphics.
Trivia
The denim shorts Lanie wears with the doll-sized tee is part of the Vacation Outfit, and was never made available for general purchase.
Ad blocker interference detected!
Wikia is a free-to-use site that makes money from advertising. We have a modified experience for viewers using ad blockers

Wikia is not accessible if you've made further modifications. Remove the custom ad blocker rule(s) and the page will load as expected.