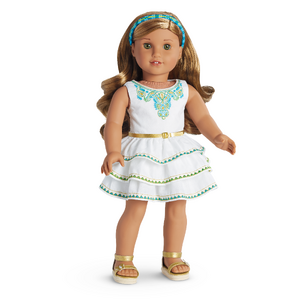 Lea's Celebration Outfit
is part of
Lea's Collection
and, like her, was
retired
at the end of
2016
. Retail cost was
$34
.
Dress
White cotton sleeveless tiered knee length dress. Bodice has boatline neck and is embroidered with gold, green metallic, and blue metallic threads in paisley swirls and vines. Waistband has attached gold belt with non adjustable square gold buckle. Three gathered tiered skirt has triangle embroidery on bottom edges; top and bottom tiers have blue triangles and middle tier has green triangles. All tier triangles are outlined with gold metallic thread which is accented with a chain line of gold above the triangles. Velcros up the back.
Shoes
Gold metallic small platform sandals. Double strap at ankle with top stitching attached to back heel; toe strap with double row of topstitching. Butterfly motifs on sides of toe straps accented with white gemstone at center. Gold inner sole; tan corded side sole with tan plastic sole base. Shoes Velcro up back heel.
Headband
Beaded stretch headband. Three lines of strung plastic beads on elastic; two outer stands are of two shades of blue (light and medium); inner strand of two shades of greens (medium and light) and yellow. Back stretch of white elastic.
The children's outfit was available for $58; unlike the doll's clothes, the belt is not permanently attached to the dress.
Trivia
The outfit is based on white clothing that Baianas (Afro-Brazilian women of the Bahia state) frequently wear.
Ad blocker interference detected!
Wikia is a free-to-use site that makes money from advertising. We have a modified experience for viewers using ad blockers

Wikia is not accessible if you've made further modifications. Remove the custom ad blocker rule(s) and the page will load as expected.