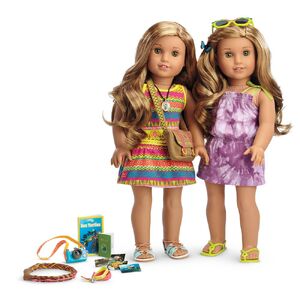 This is a list of all the items that was available for Lea Clark. As Lea is a Girl of the Year, she and her items were only available from January 2016 to December 2016 before retiring.
Doll
Lea came with a paperback copy of Lea Dives In.
Outfits
Accessories
Books
Movie
App
Lea's Exclusive Collection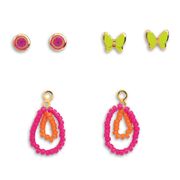 Lea's Exclusive Collection consisted of the doll, meet book, Lea's Accessories, and Lea's Beach Dress for $180, and $196 for the option to add ear piercing and a set of earrings exclusive to Lea:
Pink-flower circular studs
Green and gold butterfly studs
Pink and orange beaded dangles
Notably, the earrings are on gold backgrounds/with gold fixings, as most earrings are sold with silver settings and backings.
For Girls
Lea's Whole World
A Whole World Collection was not released.
Debut Giveaway Item
Lea's giveaway item was a pink lycra sarong in a giveaway envelope.
References