"Lea" redirects here. For the doll, see Lea Clark (doll).
Lea Clark is the fourteenth Girl of the Year released by American Girl. She was released in 2016.
Character
Lea lives in St. Louis, Missouri with her mom and dad. She has an older brother named Zac. She has a pet turtle named Ginger.
Lea loves to take photographs with her camera. Lea won third place in a national kids' magazine contest.
Her friends are Abby Hudson and Camila Cavalcante, a girl who Lea met in Brazil.
Lea is 1/8th Brazilian.
Family
Mike Clark: Lea's father
Carol Clark: Lea's mother
Zac Clark: Lea's older brother
Amanda Cooper: Lea's grandmother
Bill Cooper: Lea's grandfather
Books
Movie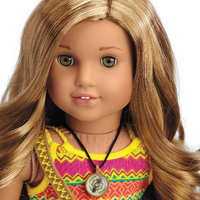 See: Lea Clark (doll)
Skin: Medium
Hair: Light brown
Eyes: Hazel
Collection
See: Lea's Collection
See Also
References