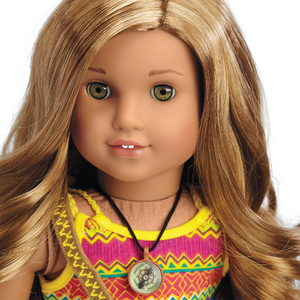 The Lea Clark doll was released in 2016 and was available for only one year before retirement. She is considered the Girl of the Year for 2016.
Lea Doll
Skin: Light Medium
Brows: Arched Feathered
Hair: Hip length, layered light brown hair with highlights and a left side part.
Eyes: Hazel
Meet Outfit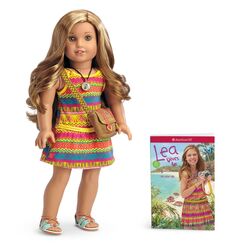 Dress
Brightly colored dress with many colors and patterns and a yellow "belt".
Sandals
Underwear
Bright green underwear with white elastic edging.
Messenger Bag
Necklace
Compass necklace. In the books, it is given to Lea by her late grandmother.
The matching girls' outfit is available:
Dress: $48
Messenger Bag: $38
Trivia
A mini doll of Lea was released in January 2016 and sold through bookstores and third party merchant sites.
Lea is the first doll to not have neck strings; the head is attached with a plastic zip tie, which is hidden inside the neckline with a closed seam at the back.
See Also
Ad blocker interference detected!
Wikia is a free-to-use site that makes money from advertising. We have a modified experience for viewers using ad blockers

Wikia is not accessible if you've made further modifications. Remove the custom ad blocker rule(s) and the page will load as expected.