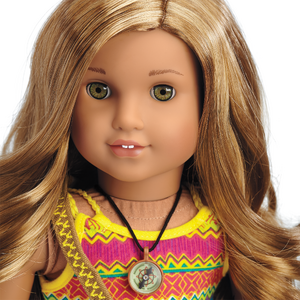 The Lea Clark doll was released in 2016 and was available for only one year before retirement. She is considered the Girl of the Year for 2016.
Lea Doll
Skin: Medium
Brows: Feathered
Hair: Light brown, left side part, hip length, layered, highlights, wavy
Eyes: Hazel
Meet Outfit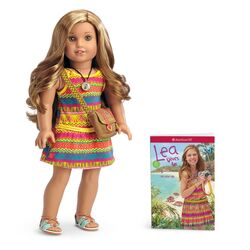 Dress
Sandals
Underwear
Messenger Bag
Necklace
The matching girls' outfit is available:
Dress: $48
Messenger Bag: $38
Trivia
A mini doll of Lea was released in January 2016 and sold through bookstores and third party merchant sites.
Lea is the first doll to not have neck strings; the head is attached with a plastic zip tie, which is hidden inside the neckline with a closed seam at the back.
See Also
Ad blocker interference detected!
Wikia is a free-to-use site that makes money from advertising. We have a modified experience for viewers using ad blockers

Wikia is not accessible if you've made further modifications. Remove the custom ad blocker rule(s) and the page will load as expected.