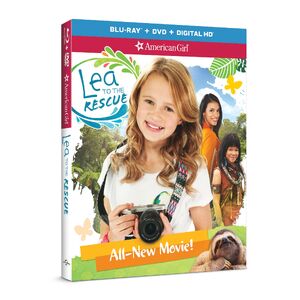 Lea to the Rescue is a movie extending the stories of Lea Clark.
Cast
Maggie Elizabeth Jones as Lea Clark
Hallie Todd as Carol Clark
Connor Dowds as Zac Clark
Storm Reid as Aki
Laysla De Oliveira as Paula
Rehane Abrahams as Officer Adriana
Crew
Released by: Universal Pictures
Directed by Nadia Tass
Plot
Movie/Book Differences
Character Differences
In the movie, Lea named her sloth Amelia. In the books, she named it Amanda.
Camila, Paloma, Marcos, Thomas, Olivia, and Lea's pet turtle Ginger aren't seen or mentioned in the movie.
In the books, Lea's dad name is Mike, in the movie his name is Rick.
In the books, it says that Zac has brown hair; in the movie he has blonde hair.
Plot Differences
The movie takes place after all events in Lea's books.
In the first book, when Lea, Zac, and Mr. Clark went hiking on the Praia Tropical, Lea's dad broke his leg and he had to end up in the hospital to get a cast. In the movie, Lea's dad just fell over the edge and Lea had to get help to save him.
In the movie, Lea said her family visited Zac in the summer, in the books they visited him in the winter.
Television Release
The movie aired on the Disney Channel on November 23, 2016.
Home Video Release
The movie was made available on Digital HD on May 31st. The Blu-Ray/DVD Combo was released June 14th, 2016.
Bonus Content
Born For Adventure: Meet Lea Clark: Featurette with actress Maggie Elizabeth Jones.
Star Power: Meet the Cast: Interview with the director and other female cast members.
Welcome to the Rainforest: A Day on Set: Featurette of filming the movie.
The Adventure Collection: Creating Lea's Style: Featurette of items and costuming/clothing.
How We Did It: Animatronics in the Amazon: Featurette on the animatronics used for the sloth in the movie.
Items Associated With the Movie
Links
References