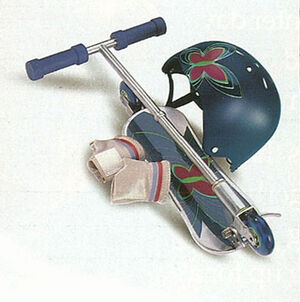 Lindsey's Scooter was part of Lindsey's Collection and, like her, was retired in 2002. Retail cost was $34.
Scooter
Metal scooter. Velcro on the handles to attach to included wrist guards. Kick stand.
Wristguards
Silver, blue and red wristguards. Velcro on palms to attach to scooter handlebars.
Helmet
Navy blue helmet. Multicolored butterfly stencil on the front. Black straps and clasp.
Ad blocker interference detected!
Wikia is a free-to-use site that makes money from advertising. We have a modified experience for viewers using ad blockers

Wikia is not accessible if you've made further modifications. Remove the custom ad blocker rule(s) and the page will load as expected.