This is a comprehensive list of all outfits released by Pleasant Company and American Girl for the Bitty Baby line. Outfits are listed by the year they were released. For purposes of this wiki, all wearable items are listed as clothing, including outerwear and outfit sets that come bundled with accessories. (Items that have no clothing are considered an accessory.) Items in italics have been retired; items in bold are Meet Outfits.
1995
Bitty Babies were originally sold in a white print sleeper.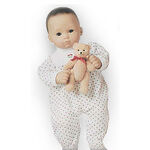 1996
1997
1998
1999
2000
2001
2002
2003
2004
2005
2006
2007
2008
2009
2010
2011
2012
2013
2014
2015
2016
2017
See Also
References
Ad blocker interference detected!
Wikia is a free-to-use site that makes money from advertising. We have a modified experience for viewers using ad blockers

Wikia is not accessible if you've made further modifications. Remove the custom ad blocker rule(s) and the page will load as expected.