"Luciana" redirects here. For the doll, see Luciana Vega (doll).
Luciana Vega is the sixteenth Girl of the Year released by American Girl. She was released in 2018.
Character
Luciana (nicknamed Luci) is of Chilean descent. She aspires to be the first person to explore Mars.
She is very confident in herself and can be impulsive in a lot of her decisions, such as adding a purple streak in her hair to match her best friend Raelyn's and leading the Red Rovers to break the rules in an attempt to find their missing motor module. However, she can sometimes doubt herself due to her plans failing, and often worries about being a good leader and a good older sister.
Luci is incredibly creative, sometimes considering herself to be too creative. She loves sketching her ideas. She is also incredibly determined and quite smart, as seen in her taking part in the essay contest to get into Space Camp for several years before finally winning with a paper on space rocks, which she has an interest in. She is shown to never give up until she completes her goal.
One of Luciana's prized possessions is her star necklace, which was given to her on her first birthday. She only wears it for special occasions. At the end of Space Camp, she bought a similar necklace--a moon-shaped one instead of a star-shaped--to give as a gift to her adopted sister, Isadora. Even before Isadora was adopted, Luci became very attached to her, often worrying about being an older sister and fantasizing about spending time with her. In her head, she calls her hermanita and has nicknamed her "Izzy."
Family and Friends
Family
Mr. Vega: Luciana's father, a math teacher.
Ms. Vega: Luciana's mother, a nurse.
Isadora: Luciana's adopted baby sister.
Friends
Raelyn: Luciana's best friend, who is used to her impulsive ideas.
Ella: Luciana's fellow Red Rover teammate, who is used to being in charge.
Meg: Ella's little sister and Luci's Red Rover teammate.
Charlotte: Ella's cousin and Luci's Red Rover teammate.
Johanna: Luciana's fellow Red Rover teammate who is from Germany and is an aspiring engineer.
Books
See: Luciana Vega (doll)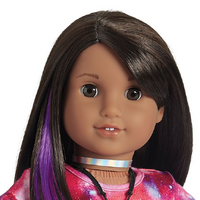 Skin: Light Brown
Hair: Dark Brown
Eyes: Brown
Collection
See: Luciana's Collection
See Also
References
↑ American Girl's Facebook page; Luciana was born in 2006! Her birthday is this month on May 15! Accessed May 11, 2018