The Madeleine Set is an American Girl item made in partnership with Williams-Sonoma, connected to Grace's Collection, and released in 2015. Retail cost is $49.95.
Baking Plaque
8" x 10".
Sugar Sifter
9" long.
Gift Boxes
Six gift paperboard boxes: 9" x 7" x 3" high.
Tissue Paper
Six sheets of tissue paper.
Twine
Six yards of red and white striped box-tying twine.
Stickers
Six stickers.
Gift Tags
Six gift tags.
Tip Guide
Trivia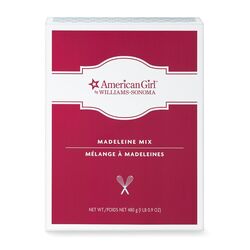 Williams Sonoma also sold a premixed Madeline Mix for $12.95 separately (makes approximately 160 mini-madelines).
Ad blocker interference detected!
Wikia is a free-to-use site that makes money from advertising. We have a modified experience for viewers using ad blockers

Wikia is not accessible if you've made further modifications. Remove the custom ad blocker rule(s) and the page will load as expected.