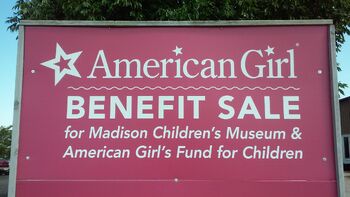 The Madison Children's Museum Sale (abbreviated as MCM, and properly known as the American Girl Benefit Sale) is an annual sale done for the benefit of the Madison Children's Museum and American Girl's Fund for Children that sells American Girl items at a discount. The sale is generally held over a two-day weekend in July.
Stock
The sale began in 1987 and is staffed by volunteers. Over the course of the year, volunteers originally repaired, sort, and clean items.
Stock at the sale was mostly comprised of returned stock and seconds (items with minor flaws) in past years. This means that any number of items were once found and purchased, ranging from recently retired items to older items and hard to find items. Since American Girl has a somewhat liberal return policy allowing items to be returned to them any time, people can and often do return older items to the company. Nearly any item returned used to be sent to the sale instead of resold to customers.
In August 2008, then-President George W. Bush imposed the world's strictest lead ban in products for children 12 or younger by signing the Consumer Product Safety Improvement Act. As a result, MCM staff and volunteers were no longer allowed to repair or refurbish several older items, and older items were not often sold. This later relaxed - older items are available again - but nowadays most items found at the sale are overstock or returns from American Girl's warehouse.
When a Girl of the Year is retired without selling out, generally any remaining stock of items is sent to the sale instead of sold after December 31st.[1]
Attending the Sale
To attend the sale, one has to go to Madison, WI to purchase items. Items cannot be purchased over the phone or through mail order. Frequently, collectors will offer to purchase items at the sale for members who live far away and cannot make it there. Most of the time this cost is no more than the cost paid plus some gas money and shipping fees.
Policies
Tickets are purchased for entrance times and sold in June before the sale. This helps to regulate the flow of people into the warehouse. Early times tend to go quickest. On Sunday an auction is held for rarer items and people are generally allowed to enter the warehouse without a ticket. Each person must have a ticket to enter and children under three are not allowed.
Merchandise is not staggered or held back; what is out there is out there. Items tend to be grouped according to type--Historical Characters and Best Friend Characters, Just Like You items, Bitty Baby and Bitty Twins. Books tend to be grouped together at very low costs. Items are not held for a person and will be restocked. Bags may be purchased. No wheeled transportation/carrying items are allowed; all items must be carried by the person or persons inside. (Bags can be purchased on the spot.) There is no time limit on shopping but a person cannot return after leaving without another ticket. All items are seconds and returns by nature and are sold as-is, so no refunds or exchanges are allowed.
American Girl is not responsible for the condition of the merchandise or the management of the sale; therefore, contacting them regarding items is not advisable. American Girl will not repair or replace items purchased from the sale that come with flaws, with the notable exception of silver eye.
Policies state that items are not to be resold; however, this is broken often as after MCM many items show up on eBay for purchase.
"X" Mark
To mark that an item has come from MCM, dolls and furniture are marked with black Xes in a non-obtrusive area. Dolls are marked on the bottom near the butt seam; furniture is marked underneath. This mark shows that an item was purchased at the sale. This leads to many eBay sellers noting that items have no Xes to show that they have not come from MCM in the weeks after the sale.
Links
References
↑ With Chrissa's retirement, however, some items have been rereleased under generic names as part of the Just Like You collection.
Ad blocker interference detected!
Wikia is a free-to-use site that makes money from advertising. We have a modified experience for viewers using ad blockers

Wikia is not accessible if you've made further modifications. Remove the custom ad blocker rule(s) and the page will load as expected.