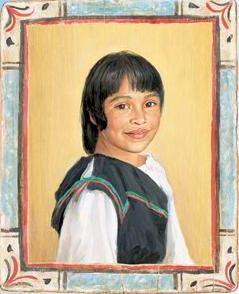 Mariana
is Josefina's friend from the Indian Pueblo miles from Josefina's home.
Facts
Personality
Mariana is considered graceful by Josefina and very respectful of her elders. She has a doll like Josefina and they like to play when Josefina visits. Josefina saved her life in Happy Birthday, Josefina!, and Mariana's family was so grateful that they gave the Montoya family a melon for Josefina's Feast Day/Birthday gift, which was prized.
Mariana lives with her grandparents, so it seems she doesn't have any parents. Esteban is her grandfather, and Andres Montoya's good friend and trading partner.
In the Books
Ad blocker interference detected!
Wikia is a free-to-use site that makes money from advertising. We have a modified experience for viewers using ad blockers

Wikia is not accessible if you've made further modifications. Remove the custom ad blocker rule(s) and the page will load as expected.