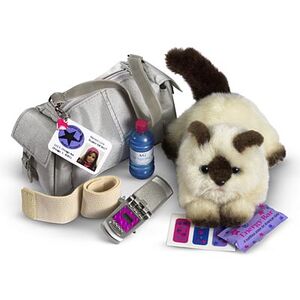 Marisol's Dance Duffel and Cat
is part of
Marisol's Collection
and, like her, was
retired
at the end of 2005. The retail cost was $24.
Cat
A stuffed version of Marisol's cat, Rascal; beige Himalayan cat with brown counterpoints and blue eyes.
Duffel
Silver dance duffel bag.
Elastic Bandage
Beige elastic wrap bandage.
Bandage Stickers
Three bandage stickers.
Energy Bar
Pretend energy bar.
Cell Phone
Cell phone with functional clock.
Water Bottle
Pretend water bottle with attached cap that says Natural Spring Water on the label in blue.
ID tag
Plastic ID tag with an image of Marisol for the American Girl Dance Academy.
Charm
Heart-shaped charm.
Ad blocker interference detected!
Wikia is a free-to-use site that makes money from advertising. We have a modified experience for viewers using ad blockers

Wikia is not accessible if you've made further modifications. Remove the custom ad blocker rule(s) and the page will load as expected.