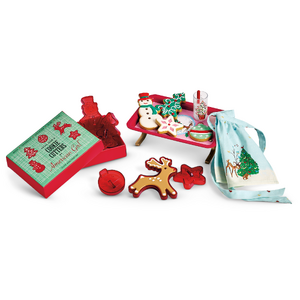 Maryellen's Holiday Cookie Set was introduced to Maryellen's Collection in 2016 and paired with Maryellen's Christmas Party Outfit. Retail Cost is $38.
Apron
Cotton waist apron. Repeating design (thrice) of a reindeer fawn (with antlers) and rabbit in white snow decorating a holiday evergreen tree, along with multicolored birds, all on a light blue background. Long waist tie. Ties around the waist.
Cookies
Five holiday cookies.
Evergreen tree with dark green "frosting", white swirls, and six red "ornament" dots.
Reindeer with outlined antlers in white "frosting", brown eye, red nose, and white spots, tail, and hooves.
Snowman with white "frosting" base, red hat with green band, green scarf, red mouth, and brown dots for eyes and three "buttons."
Circular ornament with green "frosting" background, red band with white edging, red cap with white edging, and white snowflakes (four above band, three below.)
Star with white "frosting" edges, five pink diamond centers, and red center dot.
All cookies have tan backing to resemble baked cookies.
Cookie Cutters
Five red plastic cookie cutters, corresponding to the cookies. Shapes are:
Holiday evergreen
Reindeer
Snowman
Circular ornament
Star (with diamond inserts)
Each cookie cutter has a small red handle on the back, and inside shows some of the cookie design. Each is also slightly larger than the cookie it corresponds to, so the cookies can be "pressed" into the cutters.
Box
Cardstock folded storage box for cookie cutters. Top design with green randomly checked lines in background and has images of all five cookie cutters framing Holiday Cookie Cutters by American Girl in center. Deer * Ornament * Snowman * Star * Tree on top; Cute and Festive on bottom. Sides and bottom half of box print are solid red inner lining white (from blank side). Bottom back of box has Made in China. Paper is not glued inside and can be unfolded.
Dimensions: 4 3/4" L x 3 9/16" W x 15/16" H.
Milk Glass
Clear plastic tumbler glass. Both sides have a white painted holiday tree in a red pot decorated with green and red ornaments and tinsel. White plastic "milk" inside of glass with permanently attached red solid straw.
Tray
Red metal serving tray. Center design of pink with white oval around snow; design of reindeer pulling a red sleigh with a holiday tree, several presents, and holly plants; edge has two bundles (upper left and lower right) of three holly green leaves and four red berries Two gold plastic legs on either side of bottom of tray that are attached with metal studs.
Trivia
The cookie cutters are designed to "fit" the cookies from behind (thus touching the plain, undecorated sides), but this does not correspond to the cookie's designs. If the actual cutters were used to press cookies, they would result in mirrored images of the cookies, with the designs reversed to the cookies. The only exception is the star, because of its reflective and radial symmetry.
Ad blocker interference detected!
Wikia is a free-to-use site that makes money from advertising. We have a modified experience for viewers using ad blockers

Wikia is not accessible if you've made further modifications. Remove the custom ad blocker rule(s) and the page will load as expected.