McKenna Brooks
Talk

0
2,586pages on
this wiki
"McKenna" redirects here. For the doll, see McKenna Brooks (doll). For the book, see McKenna. For the movie, see McKenna Shoots for the Stars.
McKenna Brooks
Information
Full name
McKenna Brooks
Gender
Female
Series location
Seattle, WA
First appearance
McKenna
Family
Father
Mr. Brooks
Mother
Mrs. Brooks
Sibling(s)
Maisey and Mara Brooks
McKenna Brooks is the tenth Girl of the Year released by American Girl. She was released in 2012.
Character
McKenna is a ten-year-old girl in 4th grade who lives in Seattle, Washington. She is skilled in gymnastics but struggles with her schoolwork, specifically reading comprehension.
McKenna is the oldest of three children, with younger twin sisters named Maisey and Mara Brooks.
McKenna is described as strong-willed and determined. McKenna is determined to be an Olympic gold medalist for Gymnastics.
McKenna has a dog named Cooper, and a pet hamster named Polka Dot.
Family
Mr. and Mrs. Brooks: McKenna, Mara, and Maisey's parents. 
Maisey and Mara Brooks: McKenna's younger twin sisters. Mara is the oldest twin. Maisey is the youngest twin.
Grandma Peg: McKenna, Mara, and Maisey's grandmother.
Grandpa Jack: McKenna, Mara, and Maisey's grandfather.
Books
Movie
McKenna is portrayed by Jade Pettyjohn.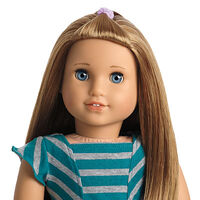 Skin: Light
Hair: Caramel/Dark blonde
Eyes: Light blue
Meet Outfit
Teal and grey striped dress
Teal leggings
Purple underwear
Lavender Ponytail Holder
Shoes
Collection
See: McKenna's Collection
See Also
Trivia
As of 2013, Chrissa Maxwell, McKenna Brooks, and Saige Copeland are the only Girls of the Year to have movies in their collections.
McKenna has so far been the only Girl of the Year to have an outfit that was not generally available; McKenna's Warm-Up Outfit was only available when purchasing her starter collection.
Girls of the Year
2001
2003
2005
2006
2007
2008
2009
2010
2011
2012

McKenna Brooks

2013