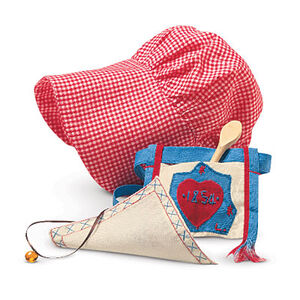 The
Meet Accessories
are accessories that complement a
Historical Character's
meet outfit
. This
term
was coined from both the titles of the historical books and the dolls themselves; the first Historical book was titled "Meet ______" and the Historical Characters were originally sold with their
Meet Books
.
[1]
Prior to retirement, Best Friend Characters' also received meet accessories.
Originally, meet accessories for the main historical characters came in a set pattern. This was a form of hat or headwear, a method of carrying things such as a tote or purse, and a historically styled necklace. Many also received handkerchiefs and representative coinage of the era.[2] Kaya was the first to break the pattern; as Nimipuu people did not carry Western style money, or wear Western style hats frequently, she was not given either. After Julie, components varied, but a hat was almost always included with main characters and with a majority of Best Friend Characters.[3] With the BeForever revamps, components began to vary but include at least three items: a hat or form of headwear, a purse, and some form of accessory.[4]
Meet Accessories are always offered to be bundled with the purchase of a Historical Character doll and her Meet Book for a discount; they can also be bought separately.
List of Meet Accessories
References
Ad blocker interference detected!
Wikia is a free-to-use site that makes money from advertising. We have a modified experience for viewers using ad blockers

Wikia is not accessible if you've made further modifications. Remove the custom ad blocker rule(s) and the page will load as expected.