Meet Marie-Grace: An American Girl is the first book in the Marie-Grace and Cécile series. It was included with the Marie-Grace doll when purchased; with the collection's archival, it can be purchased separately.
Characters
Introduced
Only in Meet Marie-Grace
Chapter by Chapter Summary
Chapter One: Home Again
Chapter Two: Just the Right Note
Chapter Three: A Helping Hand
Chapter Four: Important Lessons
Chapter Five: By Special Invitation
Chapter Six: Switched
Discusses the history of New Orleans. Topics covered:
Items associated with Meet Marie-Grace
See Also
Trivia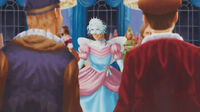 References and Footnotes
Ad blocker interference detected!
Wikia is a free-to-use site that makes money from advertising. We have a modified experience for viewers using ad blockers

Wikia is not accessible if you've made further modifications. Remove the custom ad blocker rule(s) and the page will load as expected.