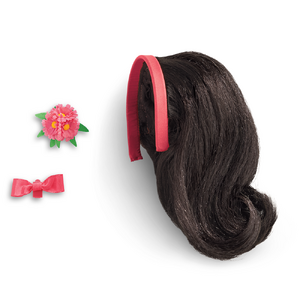 Melody's Hairstyling Set was introduced to Melody's Collection in 2016. Retail Cost is $22.
Hairpiece
Brown textured long-length hairpiece with attached salmon fabric-covered plastic headband. Underneath hair just behind headband is a fabric lining with a padded brown "bump" that lays against the hair.
Bow Clip
Pink satin bow attached to pink clip.
Corsage Clip
Three pink silk flowers (with yellow centers) and six green leaves attached to pink clip.
Trivia
Unlike most of the other hairstyling sets made available for Beforever Characters, Melody's is intended to complement her floral dress and not her meet outfit.
Ad blocker interference detected!
Wikia is a free-to-use site that makes money from advertising. We have a modified experience for viewers using ad blockers

Wikia is not accessible if you've made further modifications. Remove the custom ad blocker rule(s) and the page will load as expected.