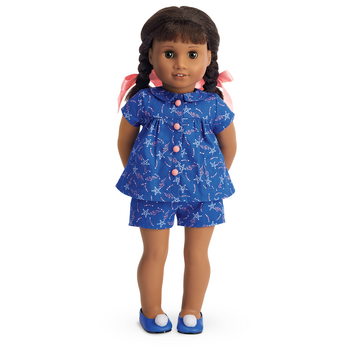 Melody's Pajamas were introduced to Melody's Collection in 2016. The retail cost is $24.
Top
Royal blue short sleeved pajama top. Peter Pan-style collar. Print of white stars with coral streaks in a constellation-like design. Two pockets on the lower sides of the front of the top. Closes with four coral domed buttons in the front.
Shorts
Pajama shorts made from the same fabric as the top. Mid-thigh length.
Slippers
Royal blue shoe-style slippers. White pom-pom on each toe.
Hairbows
Two light pinky-coral satin ribbon bows on black ponytail holders.
A set of girls' pajamas inspired by the outfit was made available as the Starry Pajamas for a cost of $42.