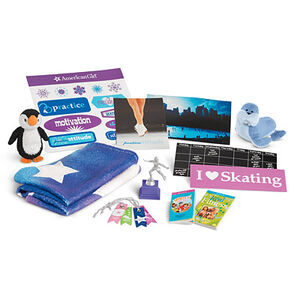 Mia's Bedroom Accessories
were part of
Mia's Collection
and, like her, was
retired
at the end of 2008. The retail cost was $30.
Posters
Three posters:
Ice skating poster of woman on ice (text: "Practice with Passion"); reversible to close up of ice skates (Text: Can-Do attitude)
City scene
"I (Heart) Skating"; reversible to snow flakes and hearts
Stickers
Sheet of five snowflake stickers and seven text stickers: "Practice", "Considerate", "Skate Club", "Motivation", "Positive Attitude", "Trustworthy", and "Stamina!"
Ribbons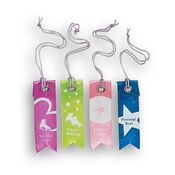 Four skating ribbons in pink, green, blue, and hot pink.
Trophy
Silver skating trophy with purple base. Plastic.
Bedspread
Blue and purple tie-dye fleece bedspread with large star print.
Penguin
Plush toy penguin.
Walrus
Plush toy walrus.
Calendar
Scheduling calendar.
Books
Mini versions of Sports Secrets and Real Fitness.
Ad blocker interference detected!
Wikia is a free-to-use site that makes money from advertising. We have a modified experience for viewers using ad blockers

Wikia is not accessible if you've made further modifications. Remove the custom ad blocker rule(s) and the page will load as expected.