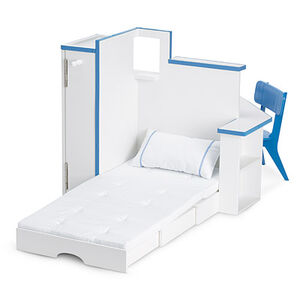 Mia's Bedroom Furniture
was part of
Mia's Collection
and, like her, was
retired
at the end of 2008. The retail cost was $125.
Three-Sided Unit
Three sided bedroom unit consisting of a desk, a closet/drawer area, and a pull out bed. Blue metal trim. Features:
Pull-out bed/couch. When pulled out, large enough to hold a full sized doll.
Desk area.
Closet with mirror; opens for four storage shelves
Two hooks--lower and upper
Display shelves
Two pull out drawers
Mattress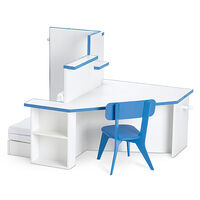 White mattress. Folds into three parts to be stored on top of the collapsed bed area as a chair.
Chair
Blue plastic desk chair.
Pillow
White pillow with blue ribbon trim.
Ad blocker interference detected!
Wikia is a free-to-use site that makes money from advertising. We have a modified experience for viewers using ad blockers

Wikia is not accessible if you've made further modifications. Remove the custom ad blocker rule(s) and the page will load as expected.