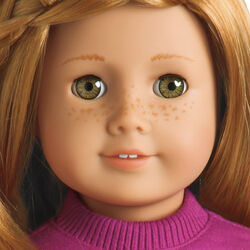 The Mia St. Clair doll was released in 2008 and was available for only one year before retirement. She was the Girl of the Year for 2008.
Mia Doll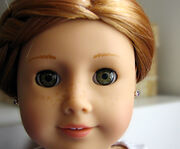 Mia's freckles are unique among the freckled dolls. Rather than dark-colored spots on either side of the nose, her golden-tan freckles have a new pattern and are on top of her nose as well as on either side and on her cheek bones.
Hair: Red, side jagged part, no bangs
Mia comes with a braid on the right side of her head.
Her hair is slightly layered.
Meet Outfit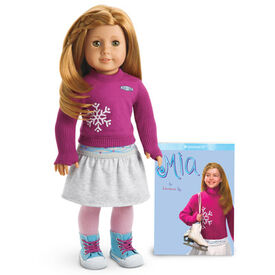 Mia's Meet Outfit is intended to visually describe her as an ice skater, with a winter-like theme.
Sweater
Long-sleeved turtleneck magenta sweater with thumb holes. White snowflake decals and skate club logo on front. The decals are easily peeled off.
Skirt
Heather grey skirt with sequins. Blue embroidery at waistband.
Panties
Blue panties with stars.
Tights
Light pink tights.
Sneakers
Blue high-top sneakers with white trim and hot pink laces.
Mia's top, skirt, and tights were offered in girl's sizes.
Zip Top: $36
Skate Skirt: $34
Tights: $14
Trivia
Before Mia's release, prototype pictures were released of variant options wearing a prototype of the Performance Outfit, including two dark-skinned dolls with an early version of the Sonali Mold.
See Also
Ad blocker interference detected!
Wikia is a free-to-use site that makes money from advertising. We have a modified experience for viewers using ad blockers

Wikia is not accessible if you've made further modifications. Remove the custom ad blocker rule(s) and the page will load as expected.