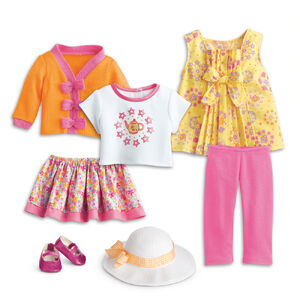 The Mix and Match Teatime Set is a Bitty Baby outfit released in 2014. It is associated with the book Bitty Baby Has a Tea Party. Retail cost is $42.
Tee
White short-sleeved tee. Dark pink trim around neckline. Orange and dark pink teapot graphic surrounded by dark pink stars on center front.
Jumper
Yellow floral-print jumper. Print has orange, light purple, and dark pink flowers. Front is pleated. Large bow of jumper fabric in center front.
Leggings
Long dark pink leggings. Elastic waist.
Sweater
Orange knit cardigan. Dark pink knit trim around cuffs, neck, and front opening. Three dark pink bows down center front closure.
Hat
White wide-brimmed sun hat. Pale orange ribbon around crown with bow at back.
Skirt
Floral-print gathered skirt. Print is of mainly pink and orange flowers on white background. Plain dark pink fabric band at hem. Elastic waist.
Shoes
Magenta shiny Mary Janes. Soft soles.
The girl's outfit is available:
Tee: $28
Cardigan: $32
Skirt: $28
Ad blocker interference detected!
Wikia is a free-to-use site that makes money from advertising. We have a modified experience for viewers using ad blockers

Wikia is not accessible if you've made further modifications. Remove the custom ad blocker rule(s) and the page will load as expected.