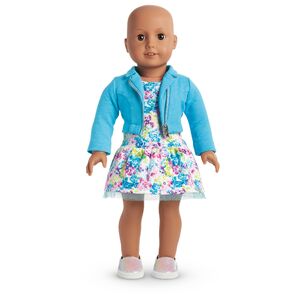 The Modern Character Meet Outfit (known variously as the American Girl of Today Meet Outfit, Just Like You Meet Outfit, My American Girl Meet Outfit, and Truly Me Meet Outfit) is the outfit an American Girl of Today, Just Like You, My American Girl, or Truly Me doll arrives in. Although Modern dolls do not have stories of their own by the company, the same term is used as for Historical Characters for convenience. The meet outfit generally changes once every two years to follow the changes of modern fashion.
In 2010, codes were bundled with My AG meet outfits for use on Innerstar University before the site was discontinued.
Originally, each outfit had a set of matching accessories that maintained the same components, much like the Historical Characters' meet accessories. As time has passed, however, the components have changed and only a few items remained standard: the miniature American Girl Magazine[1], the library card, the miniature $1 notes, the bag, and the piece of jewelry[2]. In 2008, the Star Hoodie Outfit was paired with the Phone and Charms Set as an accessory, which does not come with the standard items. In 2010 no accessories were sold separately.[3]
List of American Girl (of) Today, Just Like You, My American Girl, and Truly Me Meet Outfits
At this point, the line was renamed "Just Like You."
At this point, the line was renamed "My American Girl"
At this point, the line was renamed "Truly Me".
In 2018, with the release of boy dolls, a boy's meet outfit was released.
List of My American Girl Meet Accessories
This set was not specifically sold as accessories for the Star Hoodie meet outfit.
References
Ad blocker interference detected!
Wikia is a free-to-use site that makes money from advertising. We have a modified experience for viewers using ad blockers

Wikia is not accessible if you've made further modifications. Remove the custom ad blocker rule(s) and the page will load as expected.