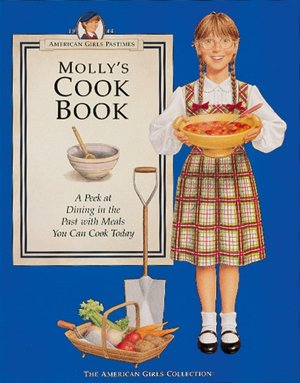 Molly's Cook Book was a cook book focused on Molly McIntire.
Contents
Introductions/Historical Information
Cooking in the 1940s
Shopping and Shortages
Setting Molly's Table
Tips for Today's Cooks
Breakfast
Friend Potatoes
Toad-in-a-Hole
Fried Bacon
Quick Coffee Cake
Frozen Fruit Cups
Dinner
Vitamin A Salad
Deviled Eggs
Carrot Curls and Celery Fans
Vitality Meat Loaf
Parsley Biscuits
Volcano Potatoes
Applesauce Cupcakes
Favorite Foods
French Toast
Waldorf Salad
PBJ Roll-Ups
Jelly Flags
Victory Garden Soup
Nut-and-Raisin Bread
Fruit Bars
Party Ideas
Ad blocker interference detected!
Wikia is a free-to-use site that makes money from advertising. We have a modified experience for viewers using ad blockers

Wikia is not accessible if you've made further modifications. Remove the custom ad blocker rule(s) and the page will load as expected.