Ad blocker interference detected!
Wikia is a free-to-use site that makes money from advertising. We have a modified experience for viewers using ad blockers

Wikia is not accessible if you've made further modifications. Remove the custom ad blocker rule(s) and the page will load as expected.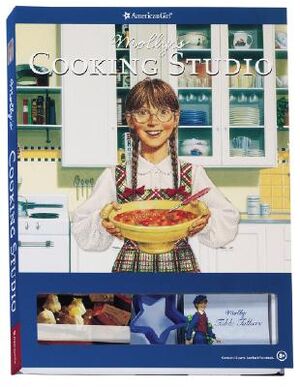 Molly's Cooking Studio was a cooking studio based on Molly McIntire.
Contents
Wire-bound Recipe Book
Ten reusable place cards
Dark Blue Plastic Star-shaped cookie cutter
Twenty "table talker" cards
Book Contents
Molly's Kitchen: Information about cooking in the World War Two era.
Shopping and Storage: Grocery shopping with ration stamps.
Setting Molly's Table: Kitchen dining styles.
Tips for Today's Cooks: Information on food prep, based on the kitchen of the time. There is also a "Handy Hints" on a tear-out card.
Recipes
Breakfast
Friend Potatoes
Toad-in-a-Hole
Fried Bacon
Quick Coffee Cake
Frozen Fruit Cups
Dinner
Vitamin A Salad
Deviled Eggs
Carrot Curls and Celery Fans
Vitality Meat Loaf
Parsley Biscuits
Volcano Potatoes
Applesauce Cupcakes
Favorite Foods
French Toast
Waldorf Salad
PBJ Roll-Ups
Jelly Flags
Victory Garden Soup
Nut-and-Raisin Bread
Fruit Bars
Party Ideas
Home-Front Celebration
Craft: V-Mail Invitation
Craft: Star Name Cards
Craft: Hanging Flags
Recipe: Celebration Cake
Recipe: Home-Front Apple Pie
Hawaiian Hula Party
Craft: Palm-Tree Invitation
Mini-Recipe: Hawaiian Banana Bread
Mini-Recipe: Tropical Twists
Activity: Limbo
Activity: The Hula (Hawaiian Music; Lei)
Summer Camp-Out Party
Craft: Tent Invitation
Mini-Recipe: Pig-in-a-Blanket
Mini-Recipe: S'mores
Activity: Sprint Tug-of-War
Activity: Flashlight Tag
Activity: Pitch a Tent