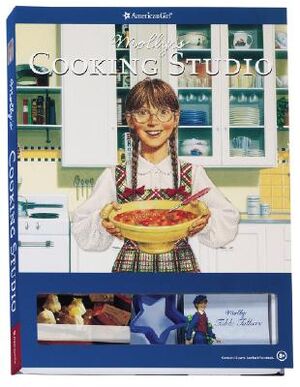 Molly's Cooking Studio was a cooking studio based on Molly McIntire.
Contents
Wire-bound Recipe Book
Ten reusable place cards
Dark Blue Plastic Star-shaped cookie cutter
Twenty "table talker" cards
Book Contents
Molly's Kitchen: Information about cooking in the World War Two era.
Shopping and Storage: Grocery shopping with ration stamps.
Setting Molly's Table: Kitchen dining styles.
Tips for Today's Cooks: Information on food prep, based on the kitchen of the time. There is also a "Handy Hints" on a tear-out card.
Recipes
Breakfast
Friend Potatoes
Toad-in-a-Hole
Fried Bacon
Quick Coffee Cake
Frozen Fruit Cups
Dinner
Vitamin A Salad
Deviled Eggs
Carrot Curls and Celery Fans
Vitality Meat Loaf
Parsley Biscuits
Volcano Potatoes
Applesauce Cupcakes
Favorite Foods
French Toast
Waldorf Salad
PBJ Roll-Ups
Jelly Flags
Victory Garden Soup
Nut-and-Raisin Bread
Fruit Bars
Party Ideas
Home-Front Celebration
Craft: V-Mail Invitation
Craft: Star Name Cards
Craft: Hanging Flags
Recipe: Celebration Cake
Recipe: Home-Front Apple Pie
Hawaiian Hula Party
Craft: Palm-Tree Invitation
Mini-Recipe: Hawaiian Banana Bread
Mini-Recipe: Tropical Twists
Activity: Limbo
Activity: The Hula (Hawaiian Music; Lei)
Summer Camp-Out Party
Craft: Tent Invitation
Mini-Recipe: Pig-in-a-Blanket
Mini-Recipe: S'mores
Activity: Sprint Tug-of-War
Activity: Flashlight Tag
Activity: Pitch a Tent
Ad blocker interference detected!
Wikia is a free-to-use site that makes money from advertising. We have a modified experience for viewers using ad blockers

Wikia is not accessible if you've made further modifications. Remove the custom ad blocker rule(s) and the page will load as expected.