Molly's Craft Book
was a
craft book
focused on
Molly McIntire
.
Contents
Star-Spangled Handicrafts
Star Whirler
Patriotic Pinwheel
Star-Stamp Stationary
"V is for Victory"
Victory Garden in a Jar
V-Stitch Handkerchief
V-J Day Parachute
A Stitch in Time
Apple Potholder
Scottie Bookmark
Photo Holder
Rainy Day Fun
Soap Fish
Handshake Game
Corral Bookends
Odds and Ends
Leather-Topped Box
Scrap-Paper Jar
Button Collage
Molly's Craft Book and Kit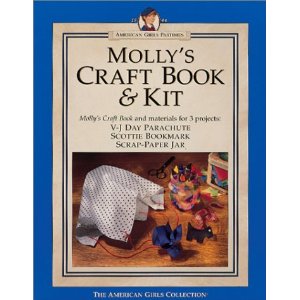 Molly's Craft Book and Kit included the book and supplies to create three items: V-J Day Parachute, Scottie Bookmark, and Scrap-Paper Jar.
See Also
Ad blocker interference detected!
Wikia is a free-to-use site that makes money from advertising. We have a modified experience for viewers using ad blockers

Wikia is not accessible if you've made further modifications. Remove the custom ad blocker rule(s) and the page will load as expected.