Molly's Puppy Tale is part of the Short Stories collections, focusing on Molly McIntire.
Characters
Story Summary
Meet The Author
The "Meet The Author" section discusses Valerie Tripp's dog, Sunday, and relates to how frisky he is, just like Molly's dog, Bennett.
Looking Back: Dogs in 1944
Discusses the role of dogs during World War II. Topics covered:
Activity: Make Dog Treats
The Activity explains how to make waffle-shaped dog biscuits.
Items Associated with Molly's Puppy Tale
Trivia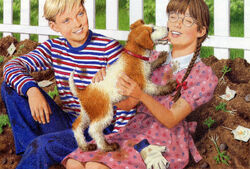 References
↑

The story takes place in May; Molly's birthday is in April.
Ad blocker interference detected!
Wikia is a free-to-use site that makes money from advertising. We have a modified experience for viewers using ad blockers

Wikia is not accessible if you've made further modifications. Remove the custom ad blocker rule(s) and the page will load as expected.