Ad blocker interference detected!
Wikia is a free-to-use site that makes money from advertising. We have a modified experience for viewers using ad blockers

Wikia is not accessible if you've made further modifications. Remove the custom ad blocker rule(s) and the page will load as expected.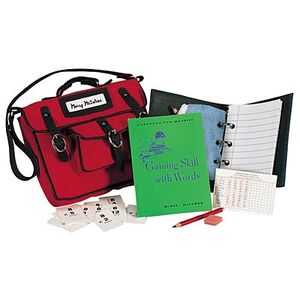 Molly's School Bag and Supplies
(also known as
Molly's Schoolbag Set
) was introduced to
Molly's Collection
in
1986
and
retired
in
2013
with Molly's archival. They are associated with the book
Molly Learns a Lesson
. Retail cost was
$28
.
Schoolbag
Red canvas school bag. Smaller pocket in front. Black handle, piping, and straps. Paper name plate with "Molly McIntire." Black shoulder strap and handle.
Notebook
Black three-ring binder with authentic sheets of paper inside.
Case
Blue canvas pencil case
Eraser
Square pink functional rubber eraser.
Pencils
Two red functional pencils.
Flash Cards
Pack of multiplication flash cards.
Book
Green English book with a blue picture of a child in the upper-left hand corner. Blue text: "Gaining Skill with Words." Thirty-two pages. Authentic pictures and exercises.
Report Card
Molly's report card. Subject listed on the left side. Grades in red print.