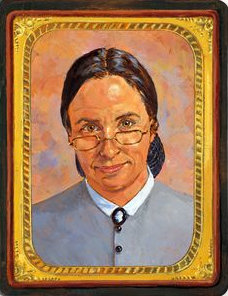 Mrs. Ford is a seamstress who owns the dress shop where Addy Walker and Ruth Walker live when they first arrive to Philadelphia.
Facts
Relationships
Personality
Mrs. Ford is stern, but fair. She wishes to help colored people in freedom, but cannot abide laziness and lack of trustworthiness. She does praise good work, however, and considers Momma the best seamstress she has ever had.
In The Books
When Mrs. Howell accuses Momma of doing a poor job on her daughter's Christmas dress, Mrs. Ford criticizes Mrs. Howell of ignoring her daughter's weight gain. Mrs. Ford gives Mrs. Howell a refund for the dress's commission only because she is displeased.
Mrs. Ford and Momma are busy adding black ruffles to mourning clothing following President Lincoln's assassination.
Ad blocker interference detected!
Wikia is a free-to-use site that makes money from advertising. We have a modified experience for viewers using ad blockers

Wikia is not accessible if you've made further modifications. Remove the custom ad blocker rule(s) and the page will load as expected.