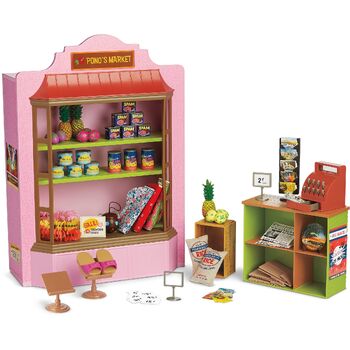 Nanea's Family Market was introduced to Nanea's Collection in 2017. The retail cost is $250.
Store
Counter
Cash Register
Money
Leis
Fabric
Open/Closed Sign
Price Tags
Price Holders
Newspapers
Slippers
Shoes
Shoe Stands
Purse
Plate
Display Stand
Shopping Bags
Postcards
Display Rack
Produce Crate
Spam
Pineapples
Mangoes
Dragon Fruit
Macadamia Nut Cans
Pineapple Cans
Rice Bags
Posters
Ad blocker interference detected!
Wikia is a free-to-use site that makes money from advertising. We have a modified experience for viewers using ad blockers

Wikia is not accessible if you've made further modifications. Remove the custom ad blocker rule(s) and the page will load as expected.