"Nanea" redirects here. For the doll, see Nanea Mitchell (doll).
Nanea Mitchell is the sixteenth Historical Character, and third exclusive to BeForever, representing the 1940s--specifically, Hawaii's role in World War II. She was released in 2017.
Personality and Facts
Family and Friends
Friends and Other Characters
Books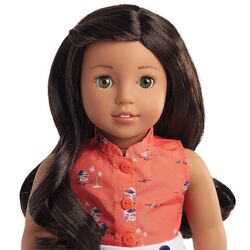 Main article: Nanea Mitchell (doll)
Collection
See: Nanea's Collection
Trivia
See also
References
Ad blocker interference detected!
Wikia is a free-to-use site that makes money from advertising. We have a modified experience for viewers using ad blockers

Wikia is not accessible if you've made further modifications. Remove the custom ad blocker rule(s) and the page will load as expected.