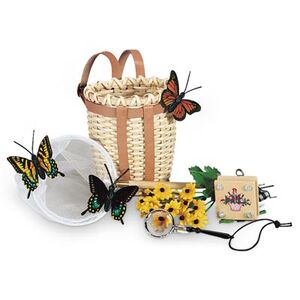 The
Nature Paraphernalia
(also known as
Samantha's Nature Paraphernalia
) was introduced to
Samantha's Collection
in
1987
and
retired
in
2007
. It is associated with the book
Samantha Saves the Day
. Retail cost was
$24
.
Basket
Net
Butterflies
Two Eastern Tiger Swallowtail butterflies and one Monarch butterfly.
Black-eyed Susans
Magnifying Glass
Miniature magnifying glass. Black handle.
Flower Press
Variations
The original magnifying glass had a cream-colored handle. It was replaced with the black-handle magnifying glass in 1996.
Ad blocker interference detected!
Wikia is a free-to-use site that makes money from advertising. We have a modified experience for viewers using ad blockers

Wikia is not accessible if you've made further modifications. Remove the custom ad blocker rule(s) and the page will load as expected.