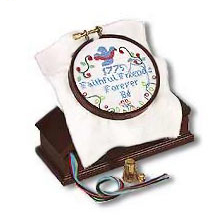 The Needlework Kit and Frame (also known as Felicity's Needlework Kit and Frame) was introduced to Felicity's Collection in 1992 and retired in 2001. It is associated with Happy Birthday, Felicity!. Retail cost was $22.
Sampler
Muslin sampler. Preprinted images of a bird, flower, and vines. Preprinted text reads "1775 Faithful Friends Forever Be."
Frame
Wooden needlework frame. Attached storage box to store the sampler, needle, threads, and thimbles.
Needle
Steel needle.
Threads
Six embroidery floss threads: blue, coral, light green, dark green, black, red.
Thimbles
One doll-sized thimble and one girl-sized thimble.
Spool
Wooden spool on a hidden, removable arm behind mounted needlework frame. The spool and wooden arm are both removable.
Ad blocker interference detected!
Wikia is a free-to-use site that makes money from advertising. We have a modified experience for viewers using ad blockers

Wikia is not accessible if you've made further modifications. Remove the custom ad blocker rule(s) and the page will load as expected.