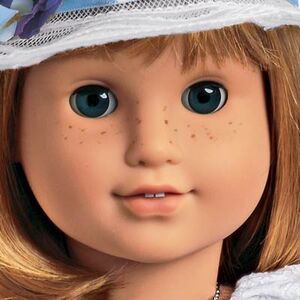 The Nellie O'Malley doll, Best Friend of Samantha Parkington, was released in 2004. Nellie was archived with Samantha's collection by American Girl in May 2009, and sold out on December 4, 2008.
Nellie Doll
Skin: Light/pale, with freckles
Hair: Strawberry/honey blond, shoulder length, bangs, side part
Eyes: Dark blue
Meet Outfit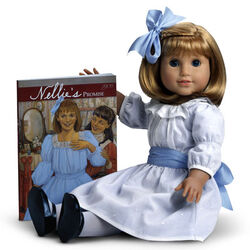 Nellie's meet outfit is representative of the type of clothing she receives once she moves in with (and then is adopted by) Gardner and Cornelia Edwards.
Swiss Dot Dress
Blue and white knee length dress: White dotted swiss over blue cotton. Double gathered 3/4 length sleeves. White eyelet lace neck ruffle trim. Attached and gathered blue satin sash around the middle.
Hair Ribbon
Wide light blue satin hair ribbon to match the sash on her dress.
Stockings
White tights; these are worn under her bloomers. Historically a girl would wear garters and stockings, but tights are easier to put on.
Shoes
Black plastic Mary Jane style shoes. Her shoes are identical to Samantha's.
Bloomers
White cotton puffy "bloomer" underpants with elastic at waist and legs. Nellie's underpants are identical to Samantha's.
Meet Accessories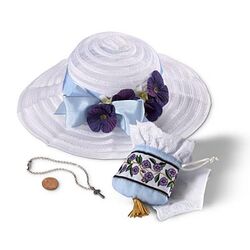 White Straw Hat
Partially meshwork white summer hat. Trimmed with purple pansies and a wide, blue satin ribbon like the one on her dress.
Drawstring Bag
Light blue drawstring bag. White, green, and purple pansy design; gold tassel on the bottom and gathered trim at top.
Celtic Cross Necklace
Silver Celtic cross pendant on a chain. It was given to her by her mother and representative of their Irish background.
Handkerchief
White cotton embroidered handkerchief. White lace trim around the edges.
Coin
Replica Irish penny of George IV of 1822.
Trivia
Nellie was the first explicitly non-Latina doll to use the Josefina Mold.
Nellie was the first Best Friend doll to be released.
Ad blocker interference detected!
Wikia is a free-to-use site that makes money from advertising. We have a modified experience for viewers using ad blockers

Wikia is not accessible if you've made further modifications. Remove the custom ad blocker rule(s) and the page will load as expected.