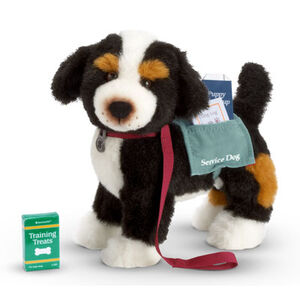 Nicki's Dog-in-Training
is part of
Nicki's Collection
and, like her, was released and later
retired
in
2007
. The retail cost was $24.
Dog
Sprocket, the dog in training. Black and white plush dog with brown accents above eyes and on his legs. Maroon collar with "S" tag and non-removable leash. Brown eyes.
Service-Dog Vest
Pale green service dog vest with elastic strap and pockets. "Service Dog" on side.
Training Log
White notebook with "Dog Log" and paw prints on cover. Ruled paper.
Scoop Sacks
Two blue scoop sacks with "Puppy Clean Up Pouch" on side.
Box of Treats
Sealed green box with "Training Treats" on side. Picture of a dog bone printed on it.