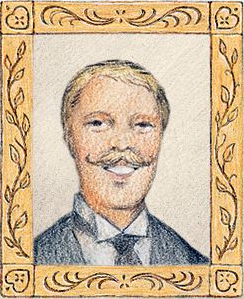 Olav Larson is the paternal uncle of Kirsten Larson.
Facts
Family
Personality
In the Books
Lisbeth mentions to Kirsten that Olav and Inger have taken in Miss Winston as a guest; Olav has already set up a small area in the loft to serve as Miss Winston's living quarters. During Miss Winston's first night with the Larsons, Olav has to remind Anna to eat her dinner lest she becomes thin.
Olav works alongside Papa to complete the farm chores before the snowfall arrives. Once the work is complete, he is able to lend his horse Blackie to pull the sleigh into town.
When Kristen and Papa return, Olav helps Papa down from the sleigh, and brings the trunks into the house with Lars. Anna and Lisbeth tell Kirsten how their Papa wanted to go out in the storm to search for the two of them, but their mama had said he would never find them on foot. He is delighted by Kirsten's Saint Lucia's Day surprise.
Ad blocker interference detected!
Wikia is a free-to-use site that makes money from advertising. We have a modified experience for viewers using ad blockers

Wikia is not accessible if you've made further modifications. Remove the custom ad blocker rule(s) and the page will load as expected.