January 2016
January 1, 2016 / Lea's debut, 2016 BeForever Special Edition mini dolls
Lea Clark makes her debut, here's a rundown of her collection:
Additionally, American Girl is accepting donations on behalf of the World Wildlife Fund as part of Lea's campaign in 2016.
With regards to BeForever, new 2016 Special Edition mini dolls have been released. If you were hoping for special edition mini dolls of Caroline or Melody, you are out of luck, though Melody's first volume, No Ordinary Sound, is now available.
For Truly Me and/or general doll stuff:
A Coconut plush toy was also released, and an update on some AG store exclusives.
Bitty Baby got nothing new for this release, along with the Bitty Twins.
It may be the new year but the same old rules of the wiki still apply.
--AkaiKaze, the Other Admin
January 21, 2016 / Release Dates for Melody's Other Books, Winter Sale
Amazon has put up preorders for the second volume and My Journey book (and three-book set) for Melody Ellison, with release date of June 23, 2016. This is quite possibly the release date for Melody's collection.
American Girl is currently having a winter sale, with items up to 40% off.
Nethilia, The Admin
January 30, 2016 / Lea Sale
Starting on January 27th, there is a sale online on various discounted bundles of Lea and items in her world (each selling for $150; discount total varies based on components) and free shipping on all items in her collection through Feb. 1st. The three bundles each include the doll/book and various sets:
* Lea's Kayak Adventure Set: Doll and Lea's Ocean Kayak Set (25% discount)
* Lea's Beach Collection: Doll, Lea's Mix and Match Swim Set, and Lea's Beach Accessories (20% discount)
* Lea's Sweet Dreams Collection: Doll, Lea's Rainforest Dreams Pajamas, and matching child's sized pajamas (17% discount)
(The sale started three days ago; I was just now able to get around to making news about it.)
Nethilia, The Admin
February 2016
February 5, 2016 / 30% Off In-Store Sale
In stores, various items from all lines are on sale for up to 30% off. This also includes new Valentines outfits.
Nethilia, The Admin
February 11, 2016 / New Items
New items from AG have been released, and the rundown is as follows.
For Truly Me:
Bitty Baby got some new stuff after skipping out on the New Year release:
For BeForever, new mysteries for Kaya, Josefina, and Maryellen, respectively.
For everyone else in BeForever save Caroline, new reprints.
Lea's third book, Lea and Camila, and her 3-book set is now available.
Bitty Twins lose out for the third straight time in a row.
--AkaiKaze, the Other Admin
February 18, 2016 / Samantha Bundling Sale, Z-Crew Items
From now until February 22, there is a bundling sale on Samantha grouped with some of her items:, each for $165.
These are available both online and in US stores.
ETA: Last week three items were also released related to the Z.Crew web video series:
Nethilia, The Admin
Feb 20, 2016 / WellieWishers and Megabloks Line Announcement

The Mattel Investor website has released information to investors regarding brands announced at the New York Toy Fair recently held.[1] The major news for American Girl is the announcement of a new line. WellieWishers appears to focus on at least five all-vinyl dolls. The notable feature is they are all wearing rain boots (commonly referred to as "wellies" in other countries) and are smaller than standard American Girl dolls. There is no further information, so until more is released, please refrain from rumor and unfounded speculation.
Furthermore, American Girl will be offering sets through another Mattel line, MegaBloks. Displays at Toy Fair show play and building sets for prior Girls of the Year (including Grace Thomas, McKenna Brooks, Isabelle Palmer, Saige Copeland, and Nicki Fleming) as well as from the the Truly Me line.
While this is exciting news, it's very important that we not pull up unfounded rumors and data. Be on your best behavior!
Nethilia, The Admin
Feb 22, 2016 / Melody Preview on CBS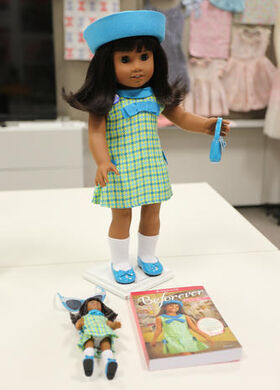 Today on CBS This Morning, an official preview of the Melody Ellison doll and items in her collection were shown. (Article; YouTube Video. From this, the following can be deduced:
The Melody Doll has the Sonali Mold, brown eyes, and dark brown straight hair with bangs and a flip. She will come dressed in a plaid green and blue dress, blue headband, white knee socks, and blue bow flats. Meet accessories appear to include a hat, purse, and '63 Detroit March pin.
Items in the collection include: a bed; pajamas; her dog Bojangles, a recording studio; at least two other outfits, including the dress from the cover of Never Stop Singing and a play outfit; and an outside table and chairs.
Melody is due to be released sometime this summer.
There's going to be a lot of information flying about before the official debut. However, we will want clear, official pictures, names, and details for any and all item articles. So don't get, as we say in the Black Community, too hype. Breathe and wait.
Nethilia, The Admin
March 2016
March 3, 2016 / Truly Me Sale Collections
American Girl is running another bundle sale; this one focuses on the modern dolls.
This sale runs until Monday, March 7th. Furthermore, there is free shipping on any order over $100.
Nethilia, The Admin
ETA: For people who may not live near an American Girl store and want the Spring Dress, Headband, and Bracelet, American Girl is extending its Purchase with Purchase offer online. There is no word on how long the outfit's online availability will last. --AkaiKaze, the Other Admin
March 10, 2016 / 30% Off Sale, WellieWishers Books on Amazon, and Melody Mini Doll
Lots of various news from AG. First, American Girl is having a sale of up to 30% off various items. This includes several things recently released, such as the Limited Edition Mini dolls and Truly Me spring outfits.
Second, three books for the WellieWishers line have appeared on Amazon.com:
The books show a retail cost of $5.99, written by Valerie Tripp.
Finally, Amazon UK shows a release of the Melody Ellison Mini Doll on June 23, 2016.
Nethilia, The Admin
ETA: There is Free shipping on order $100+ with shipping code FSMAR16.
March 15, 2016 / Costco Offers
Costco is once again offering various items for sale. Some are similar to last year's offers, but one new bundle is being offered.
New is the Horse and Saddle Set: a bundle of the retired Chestnut Horse with small accessories: saddle, bridle and reins, blanket, bristle brush, carrots and apple. Cost is $49.99.
Pet House sets return for $29.99.
Gift Card sets of $100 for $79.99 return, offering an immediate 20% discount.
You must have access to a Costco Club Membership to take advantage of these offers as these are not available online.
Nethilia, admin.
March 17, 2016 / Truly Me Bundle Collection Sale
American Girl is running another bundle sale for the modern dolls, the Canopy Bedroom Collection. This comes with with the purchaser's choice of any currently available Truly Me dolls, the Petals and Plaid PJ's, and a newly released item, the Canopy Bed and Bedding Set, for $170. As the bed retails for $80 separately, the discount from retail of $219 makes for an approximate 23% discount.
This sale runs until Tuesday, March 22th.
Nethilia, The Admin
April 2016
Apr 7, 2016 / Maryellen Bundle Collection Sale; Megablox Availability
It looks like the bundle sales are starting to come monthly. This month stars Maryellen, with up to 20% discounts and free shipping included for the bundle.
These are available both online and in US stores; the sale runs until Monday, April 11th.
MegaBloks sets have been made available through Toys R' Us to start the initial release. Sets include:
There is also a portal page, at the MegaBloks Site.
Nethilia, The Admin
Apr 21, 2016 / BeForever Bundle Collection Sales
More bundle sales are available at 25% off, specifically focusing on Julie Albright, Kaya, and Kit Kittredge. These are available both with and without the doll included, and include free shipping regardless.
These are available both online and in US stores; the sale runs until Monday, April 25th.
Apr 28, 2016 / Small Mid-Spring Release
A small early spring release completes Lea's collection and adds to the Truly Me and Bitty Baby Lines.
For Lea's Collection:
For girls (inspired by Lea's collection):
For the Truly Me line:
For Bitty Baby:
Books:
Still nothing for the Bitty Twins, and nothing for BeForever at present.
May 2016
May 23, 2016 / More on the WellieWishers and New Books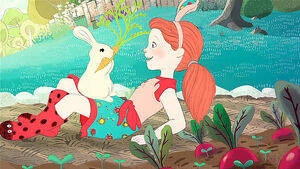 More information has been released on the WellieWishers, including that the name of the line may possibly be all one word (but this has not been confirmed). Three book titles have been released: Ashlyn's Unsurprise Party, The Muddily-Puddily Show, and The Riddle of the Robin. The books show a publication date of September.
Names have also been confirmed for at least three of the characters by the book descriptions and illustrations.
Willa is the red headed White girl.
Ashlyn is the tan brown-haired girl whose race is currently unspecified.
Emerson is the East Asian appearing girl with black hair.
Camille and Kendall have yet to be fully confirmed.
Nethilia, The Admin
ETA: Also showing on Amazon.com are two more overarching books:
Nethilia, The Admin
June 2016
June 16th, 2016 / WellieWishers Release Date and Final Character Name Confirmations
American Girl has released a preview for the WellieWishers line. The launch weekend is June 23-26th at all American Girl stores, and June 23 at the website, giving a short launch time. and included examples include additional outfits, playsets, and girl sized clothing based on the five main characters, including clear wellies (rainboots) and socks.
What does this bode for the release of Melody? So far, it's likely she'll be later this summer. As for the Bitty Twins, no information on their remaining is available at this time. We don't rumor mill, folk.
ETA: A prerelease article from Good Housekeeping has confirmed each of the WellieWishers; the last two are:
Kendall is the Black girl.
Camille is the blonde haired White girl.
Nethilia, The Admin
June 17th, 2016 / Lea Collections and Free Shipping
With the release of Lea's movie Lea To the Rescue, new bundles have been released. Each of these include the BluRay/DVD bundle of Lea To the Rescue.
There is also free shipping on all items in Lea's collection. This started June 14th and will continue through June 20th; free shipping on the movie is through the end of the year.
Nethilia, The Admin
June 23, 2016 / WellieWishers, Truly Me, and Melody
The WellieWishers make their debut with their collection. Here is a rundown of what's available:
To promote the line's debut, all WellieWisher items are eligible for free shipping from now until July 31st. Furthermore, purchasing a doll and any small accessory set has a $5 discount, like 18" dolls.
The WellieWishers' three books will be released in September, though you can read previews on the WellieWishers portal on AmericanGirl.com.
The Truly Me line got a lot of new stuff:
American Girl has also made it a little easier to purchase a bald doll on their online store, though you will still need to call their customer service department to start the process.
Bitty Baby got only two outfits:
The BeForever line got nothing, though Melody's second volume and My Journey Book is now available, which means you can now get Melody's 3-book set if you held out on the first volume (or trade in the first book against the cost, if you just couldn't wait). The doll and her collection will be released in August this year.
It also appears that the Bitty Twins are on their way to retirement as related outfits and accessories are gone and only the dolls remain purchasable at the time of this writing. ETA: It has been confirmed that the Bitty Twins are now retired. Fare thee well, Bitty Twins.
No matter how exciting it is to see new items from American Girl, the rules of the wiki are the same: write well-written contributions for new or existing articles, and if someone comes in and removes or edits your work, don't be a drama queen. We don't tolerate poor writing or behavior, and if something needs to be debated, use that article's talk page.
--AkaiKaze, the Other Admin
July 2016
July 2, 2016 / New American Girl Boutiques
A glance through Mattel's Careers section reveals American Girl plans on opening several new Temporary Boutiques this year:
AG Indianapolis is also scheduled to reopen next week at Castleton Square Mall and operate until early 2017.
--AkaiKaze, the Other Admin
July 7, 2016 / American Girl and Scholastic
Publishers Weekly reports American Girl and Scholastic have formed a partnership to publish both physical books and electronic books based on the BeForever and GOTY lines, starting in January 2017. This includes expanding upon and reissuing books for retired GOTY characters. A new line of historical nonfiction chapter books as well contemporary fiction from the forthcoming American Girl/Scholastic partnership is also in the works.
--AkaiKaze, the Other Admin
July 12, 2016 / GOTY 2017, other book news
Amazon listings for Girl of the Year 2017 have appeared:
The author, Teresa E. Harris, is a woman of color and the books she has written have featured protagonists of color, so there is a possibility GOTY 2017 may be a girl of color.
There is a trio of books written by Kellen Hertz, who co-authored Lea and Camila with Lisa Yee:
The only information of note is that these three books appear to be targeting middle grade (ages 8-12) readers and seems to be an original series of contemporary fiction outside the GOTY line.
It bears repeating: this wiki has a zero-tolerance policy on rumors and speculation, and any form of rumormongering will get you banned.
--AkaiKaze, the Other Admin
July 28, 2016 / AG Rewards

Several weeks late with the news, but: American Girl has started a rewards program, aptly named AG Rewards, that rewards customers for their purchases with rewards. The program is free to sign up for. At its most basic, every dollar spent (minus taxes and/or shipping) is a point added to the account with a $10 reward coupon issued after 200 points (so $200 of puchases). Other exclusive offers are given as higher levels of points are reached in a year: Silver (0-349); Gold (350-699), and Berry (700+).
More information can be found on the website at A*G Rewards; details will be placed on the Wiki later on.
Nethilia, The Admin
August 2016
August 3, 2016 / AG Rewards Offer for Melody's AG Rewards Collection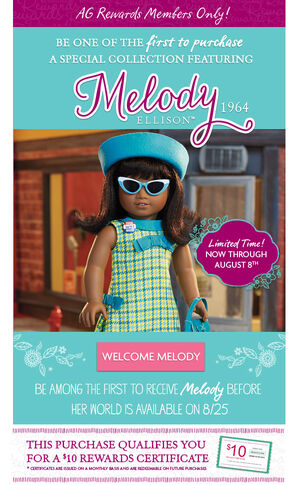 Customers that opted into AG Rewards before July 27th were, on August 1, offered a preorder to purchase Melody's AG Rewards Collection,, a unique starter collector for Melody Ellison costing $212. This includes the Melody Ellison doll along with the following items:
Items cannot be removed or adjusted online. The order has free shipping; furthermore, American Girl intends to ship orders in order to have the order arrive to purchasers on or before August 18th, a week before Melody's official debut on August 25th. (Purchases are only shipped and cannot be picked up in stores.) This is an offer only available to AG Rewards members that signed up before July 27th, and is only available through August 8th.
This does mean that there will be some people who will have Melody and some of her items before the official launch. However, quality doesn't change. Write well-written contributions for new or existing articles, give good detail pictures, and don't try to "first" this.
Nethilia, The Admin
August 4, 2016 / Gymnastics Bundle and Back-to-School/A+ Sale
A bundle for the Truly Me collection has been released, the "Gymnastics Star" Collection. This includes the Two-in-One Gymnastics Practice Outfit, Rhythmic Gymnastics Outfit, and Gymnastics Set for $115 (from original costs of $149, a savings of $34/22%). Adding any available Truly Me doll increases the cost to $205 (from $264, a savings of $59/22%). These bundles are available until August 8 and have free shipping.
There is also a sale--A+ Sale--through August 15th. This includes various Truly Me outfits, school-based Truly-Me Accessories, BeForever school outfits, BeForever accessories, craft kits, the Limited edition Mini Dolls, and various books and accessories.
Nethilia, The Admin
August 6, 2016 / American Girl at Amazon.com
American Girl is now selling products through amazon.com. They have started with bundles for Maryellen Larkin, which became available August 1st.
There appear to be no discounts, but because of Amazon's free shipping after $50 of items there are no shipping charges. Do take note that other American Girl products sold on Amazon are not fulfilled by American Girl; many items listed are sold by secondary sellers at inflated prices.
Nethilia, The Admin
ETA, 8/23/16: The MegaBloks sets are also available.
August 18, 2016 / Fall 2016 Sneak Preview
American Girl has released a sneak preview of new items that will be coming out August 25th with Melody's official launch.
Items shown include new outfits for Julie, Maryellen, and Josefina; new BeForever accessories for Maryellen around food; lots of items for both Truly Me and Bitty Baby, including playsets and accessories; and even a new winter set for the WellieWishers.
As usual, sneaks are not confirmations. We don't tolerate rumors and half facts.
Nethilia, The Admin
ETA: American Girl has also put up a preview of several items for Melody's collection, including clothes, furniture, and accessories.
August 24, 2016 / Upcoming American Girl Books
New books have been listed on Amazon.com, due in 2017
For the BeForever Historical Character Mysteries:
Three new WellieWishers books:
Finally, three books that, at present, sound like a potential rerelease of Felicity Merriman's Central Series:
As of right now there is very little detail on the last three books, other than two are by Valerie Tripp; however, the titles seem to lean towards a focus on Felicity. ETA, 8/27/16: Additional information on the descriptions shows a release date of February 2017 as well as the category of "Colonial", helping this lean towards a rerelease of Felicity's Central Series stories.
Remember, we don't do Rumors, so don't cause trouble.
Nethilia, The Admin
August 25, 2016 / Melody Ellison Arrives! (And the Holiday End of Year Releases)
After so much information coming out already, the day is here! Melody Ellison has now officially released, along with her collection:
Items were released for all major lines to complete the holiday releases, including BeForever characters:
For Maryellen Larkin:
For Julie Albright:
For Rebecca Rubin:
For Josefina Montoya:
Children's clothes based on characters:
For the WellieWishers:
For Truly Me:
For Bitty Baby:
Other books and items:
Give us your best on every article and enjoy the new stuff!
Nethilia, The Admin
August 25, 2016 / Melody Release Bundles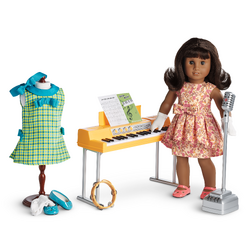 Three Melody Bundles with discounts have also been released:
Melody Doll and Performance Collection, $190 (from standard of $235, save $45): Melody's Fancy Floral Dress, Melody's Electric Piano, Melody's Microphone Set
Melody Doll and Block Party Collection, $240 (from standard of $296, save $56): Melody's Play Outfit, Melody's Table and Chairs, Melody's Block Party Set
Bedtime Collection, $225 (from standard of $287, save $62): Melody's Pajamas, Melody's Bed and Bedding, and Melody's Bedroom Accessories
Each comes with the Melody Ellison doll and No Ordinary Sound. These are only available through August 29th--the first five days of release.
Nethilia, The Admin
August 31, 2016 / American Girl To Partner With Toys 'R Us; Shop-in-Shops Opening This Fall
A Mattel press release has announced that American Girl Products will be sold in Toys 'R Us stores across the United States. Toys 'R us will be the only U.S. retailer to have AG Shop-in-Shops in select stores outside of American girls shops and boutiques and the online store. (source)
The first line to be released includes WellieWishers dolls and accessories, beginning this weekend. Full shop-in-shops will open this fall and include exclusive selections of Truly Me items, outfits, and accessories as well as dolls. (It has not yet been stated if any dolls will be TRU Exclusives.) BeForever items and dolls will continue to only be available at the boutiques.
Until we have more details, please don't rumormonger. We don't like it and neither do you.
Nethilia, The Admin
September 2016
September 8th, 2016 / Truly Me Collection Sale
A sale for Truly Me dolls is available. Unlike prior sales, this one is able to be customized by customers, who may pick from:
Any Truly Me Doll
Any one "Special Extra" (various accessories in the $6-$16 price range such as shoes, hairbrushes and care kits, glasses, jewelry, hats, and purses)
Any two outfits from available Truly Me Outfits
Once all items are chosen, the entire collection is then discounted a flat 20%. This sale is through September 19th; the offer excludes any sale or discounted items.
Nethilia, The Admin
September 23, 2016 / Confirmation of Felicity Book Re-Release
The descriptions for the books A Stand for Independence, Love and Loyalty, and Gunpowder and Tea Cakes on Amazon's Canadian Site have confirmed by description that these are a re-release of the Central Series for Felicity Merriman and a journey book.
As of right now there is no confirmation by American Girl of any other rereleases for older archived characters, or a rerelease of Felicity's collection for the BeForever Line. No covers are visible yet, so we have no images of the updated look; however, it is likely the covers will be changed.
Nethilia, The Admin
September 29, 2016 / American Girl and Kohl's
Somewhat old-ish news that somehow slipped beneath the radar - back on September 8, American Girl and Kohl's announced a partnership similar to what American Girl has done with Toys R Us as Kohl's will stock items from the WellieWishers line as well select items from Lea Clark's collection starting October 3:
Unlike the Toys R Us partnership, it appears there will not have any Kohl's-exclusive AG items nor will Kohl's carry items from any other product lines. (Source)
AkaiKaze, the Other Admin
Ad blocker interference detected!
Wikia is a free-to-use site that makes money from advertising. We have a modified experience for viewers using ad blockers

Wikia is not accessible if you've made further modifications. Remove the custom ad blocker rule(s) and the page will load as expected.