January 2017
January 1, 2017 / Gabriela debuts, other new stuff
Gabriela McBride makes her debut as the first black Girl of the Year, here's the rundown of her collection.
For Truly Me:
There are also two new Williams-Sonoma items, the Popcorn Kit and Cookie Stamp Set.
Bitty Baby only got one outfit, the Hearts and Stripes Valentines Outfit. No items were released for BeForever or WellieWishers.
New stuff, new year, but the same old rules of the wiki apply.
AkaiKaze, the Other Admin
January 6, 2017 / Express Yourself with Gabriela / Gabriela's Meet Outfit Separate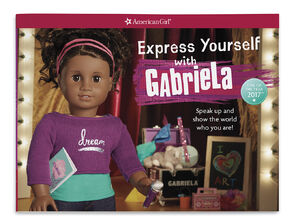 Information on Gabby's craft book, Express Yourself With Gabriela, have released on American Girl's publishing site. Like previous craft books, this one contains various activities focused on Gabriela's theme; her extra accessory include a prop microphone and poetry journal. There is no release date yet.
In addition, Gabriela's Meet Outfit is being sold separately through American Girl for $28. Customers who show record of a purchase of Just Like You 46 within recent years are being mailed codes to receive the outfit for free. The code is redeemable until March 31st.
Nethilia, The Admin
January 31, 2017 / Debuts at American Girl Place Los Angeles
If you happen to live in the Los Angeles area, the American Girl Place at The Grove is hosting a first look event for what is presumed to be the debuts of Tenney Grant and Felicity Merriman on February 16, 9am to 10am. (The description from the Los Angeles store page states, "you'll be among the first to see our newest contemporary character, and to welcome back a beloved historical character!" in the Upcoming Events section.) There will also be new products on display in addition to the character reveals. It should be noted this event is intended for adults and reservations are required, but children will not be turned away.
AkaiKaze, the Other Admin
February 2017
February 7, 2017 / Upcoming Modification to 18" dolls

Recent information from American Girl on their Facebook page ([1]) reveals that, starting in 2017, several dolls will be modified so that their underwear will be a permanent part of the cloth torsos. This will apply to Maryellen, Melody, Julie, Truly Me dolls, and upcoming contemporary characters (but not Tenney Grant). Official statement [2] is that the modification was made "for a variety of reasons, including consumer research that's shown that having the underwear fixed to the body will make play easier for some and will ensure the underwear is less likely to be lost or need to be replaced." They will continue to sell separate brief and underwear sets. This will be a rolling replacement among Truly Me and other dolls.
We will not discuss this on the wiki in detail (or any other upcoming dolls) before they are released.
ETA: A E-mail to Jezebel from American Girl includes the following addition, also citing cost issues:
The decision to make this change was made for several reasons, including our ability to continue producing a quality product without the price of our dolls going up. And because we learned from our consumer research that the new underwear design will make play easier for some children and will ensure the underwear cannot be lost, we hoped it was an overall benefit for most. Having observed for decades how girls play with our dolls, outfits, and accessories, we believe the change will not limit how a young girl imagines or interacts with her doll.
Nethilia, The Admin
February 13, 2017 / Images of Two New Characters on American Girl Site
A stop-motion video on the American Girl Play site reveals dolls of Gabriela, Tenney Grant, Logan Everett, Suzie Yang (Z from the Z.Crew videos), and an new unknown, possibly historical character. Information has already materialized for Felicity, Tenney, and Logan (and Gabriela was released on January 1st) but not a doll of Z or the unexplained new character (with what appears to be a whole new face mold).
As per the usual, until there is more information on any characters, we will not put up articles. We don't rumormonger and we don't tolerate those that do.
ETA: The American Girl Website has officially revealed that the previously unknown doll is Nanea Mitchell from 1941, as well as confirmed Suzie "Z" Yang. Article pages are up but more details are currently unavailable. We'll still come at you if you try to rumor-smear, and the pages are locked. Don't test the admins.
ETA 2: There is now a site showcasing all six dolls, and American girl is encouraging the use of the hashtag #ChooseYourCharacter on Instagram to promote all the characters. Tenney, Logan, and Felicity will release Thursday, Suzie "Z" Yang in April, and Nanea Mitchell this Fall around August.
As per the usual, until there is more information on any characters, we will not put up articles. We don't rumormonger and we don't tolerate those that do.
Nethilia, The Admin
ETA 3: American Girl confirmed on Twitter the specific dates for Suzie and Nanea's debuts - they will be released on April 27 and August 24 of this year, respectively.
AkaiKaze, the Other Admin
February 16, 2017 / Tenney Grant, Logan Everett, Felicity Merriman, and Other New Things
All lines got new products in the Spring Release. Tenney Grant, Logan Everett, and the collection have been released, launching the Contemporary Characters line:
Felicity has also been rereleased for the BeForever Collection with a starting collection:
Her items (minus the books) are only available online and at the flagship AG stores.
Select BeForever characters received items:
For WellieWishers (Notably, free shipping remains on the line.)
For Truly Me:
Bitty Baby's releases:
Nethilia, The Admin
March 2017
March 3, 2017 / WellieWishers MegaBlox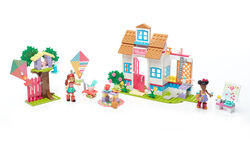 MegaBloks based on the WellieWishers have been released. This includes individual dolls as well as construction playsets.
MegaBloks Garden Friends Collection (individual dolls)
MegaBloks Garden Party (with Ashlyn)
MegaBloks Carrot's Hutch (with Willa)
MegaBloks Cheerful Carriage (With Camille)
MegaBloks Garden Theater (With Emerson)
MegaBloks Playful Playhouse (with Willa and Kendall)
These will be sold wherever MegaBlox (which have changed to the name MegaConstrux) are available.
Nethilia, The Admin
April 2017
April 10, 2017 / 25% off BeForever Items
From April 7th until 19th, select items in the BeForever collection are 25% off through the American Girl website and at AG stores. This does not include any recent releases.
Nethilia, The Admin
April 12, 2017 / Nanea Book Titles
The titles of Nanea Mitchell's Central Series books have appeared on Amazon:
There are also brief summaries of each book.
Nethilia, The Admin
April 18, 2017 / Z on Chapters
Z's initial collection has debuted on Chapters (a Canadian American Girl seller). Here at A*G Wiki, we would like to wait for the formal release through American Girl in about a week before any descriptions go up.
Nethilia, The Admin
April 27, 2017 / Z's Release (Plus Extras)
Z Yang and her collection have released:
Tenney's third book, Tenney Shares the Stage, and Gabriela's second book, Gabriela Speaks Out also released today, as well as her craft book, Express Yourself With Gabriela.
For the WellieWishers, the books released are The Mystery of Mr. E and The Rainstorm Brainstorm. (WellieWishers books are now also available in three-book sets.)
Advice books released are School Rules! Writing, School Rules! Projects, and A Smart Girl's Guide: Getting It Together.
Nethilia, The Admin
May 2017
May 10, 2017 / First Book in the Like Sisters Series
The cover of a book in the "Like Sisters" series, Like Sisters: Emma Moves In was released today on Amazon, as well a a light summary. As of right now no further information is available about future books or items in the series (though the book being numbered #1 implies future books). The book is set for release this August.
Nethilia, The Admin
May 22, 2017 / No More "Permapanties"
In what can be seen as a move similar to the history of New Coke and the Windows 8 start screen, American Girl has decided to discontinue the permanent underwear that had started to be released on Truly Me dolls (and would have been released on three of the BeForever Characters), following several weeks of fan backlash and complaint. This was officially announced on the American Girl Facebook page, along with information that the most recent "boutique-style" box design would be reinstated (though it will remain for Contemporary Characters and through some of the Truly Me dolls until stock is depleted).
Existing doll inventory with permanent sewn-in underwear will still be available in stores until stock runs out. Any customers who have previously purchased dolls with permanent underwear can opt to have their dolls reverted to the old body design with a one-time no-cost exchange through American Girl (instructions here).
Ad blocker interference detected!
Wikia is a free-to-use site that makes money from advertising. We have a modified experience for viewers using ad blockers

Wikia is not accessible if you've made further modifications. Remove the custom ad blocker rule(s) and the page will load as expected.