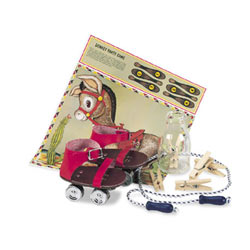 The Party Games (also known as Molly's Party Games) was introduced to Molly's Collection in 1987 and retired in 2006. It is associated with the book Happy Birthday, Molly!. Retail cost was $20.
Game
"Donkey Party Game"  
Bottle
The glass bottle says "Pleasantry Farm: Grade A Milk"
Clothespins
There are five clothespins.
Roller Skates
The roller skates are in red, unlike Molly's other green roller skates available for purchase separately.
Jump Rope
Ad blocker interference detected!
Wikia is a free-to-use site that makes money from advertising. We have a modified experience for viewers using ad blockers

Wikia is not accessible if you've made further modifications. Remove the custom ad blocker rule(s) and the page will load as expected.