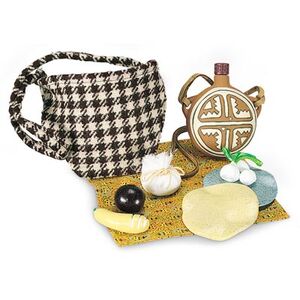 The
Picnic Lunch
(also known as
Josefina's Picnic Lunch
) was introduced to
Josefina's Collection
in
1997
and
retired
in
2007
. It is associated with the book
Josefina Learns a Lesson
. Retail cost was
$20
.
Tortillas
Two corn tortillas: one yellow, one blue.
Squash
Yellow squash with slices near end.
Onions
Cluster of three white onions, attached by stems.
Cheese
White goat cheese. Wrapped in white cloth and tied with twine.
Plum
Purple plum.
Canteen
Brown canteen with leather strap. White circular design. Brown cap.
Bag
Black and white wool bag.
Napkin
Orange cloth napkin. Green, black and yellow print design.
Ad blocker interference detected!
Wikia is a free-to-use site that makes money from advertising. We have a modified experience for viewers using ad blockers

Wikia is not accessible if you've made further modifications. Remove the custom ad blocker rule(s) and the page will load as expected.