Polly Merriman is the baby sister of Felicity Merriman.
Personality
Polly is an infant, and thus has only a small personality.
In the Books
Before Birth
Polly is technically mentioned in Felicity Saves the Day, when it is mentioned that Martha Merriman is due to have a baby in the winter.
Polly is born in the abandoned house that the traveling group takes shelter in when the carriage is broken on the way to the plantation. Rose says that she was almost born in the stream like a pollywog, and so Felicity suggests that they name her Polly.
Polly's birth is announced by Nan, who says that they have a new sister when Felicity arrives home. Her birth causes Mother to fall extremely ill, and thus unable to complete Felicity's gown. Felicity and Rose mind her while her mother is getting better.
She is played by an uncredited Genevieve Harvey.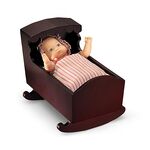 Polly is, uniquely, the only sibling of a historical character to be given a doll in any American Girl collection.