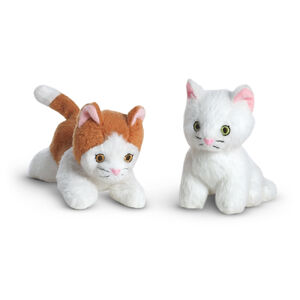 Rebecca's Kittens were introduced to Rebecca's Collection in 2009. Retail cost is $22.
Multicolored Kitten
Plush kitten in crouch. Brown with white stomach, paws, face, and tail tip; Embroidered hazel eyes, nose, and whiskers. Pink inner ears.
White Kitten
Plush kitten in sitting position. Solid white with pink inner ears. Embroidered green eyes, nose and whiskers.
Trivia
Ad blocker interference detected!
Wikia is a free-to-use site that makes money from advertising. We have a modified experience for viewers using ad blockers

Wikia is not accessible if you've made further modifications. Remove the custom ad blocker rule(s) and the page will load as expected.