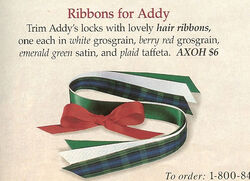 Ribbons For Addy were introduced to Addy's Collection in 1995 and later retired. Original retail cost was $6. All the ribbons are 1" wide.
White Ribbon
White 22" grosgrain ribbon.
Red Ribbon
Red 22" grosgrain ribbon.
Green Ribbon
Green 22" satin ribbon. While it can be seen as a substitute for the ribbon that comes with the Tartan Plaid Dress, it is one inch shorter.
Plaid Ribbon
Green and blue taffeta plaid ribbon. It does not match the Tartan Plaid Dress.
Trivia
The ribbons came mounted on cardboard wraps in plastic sleeves.
Ad blocker interference detected!
Wikia is a free-to-use site that makes money from advertising. We have a modified experience for viewers using ad blockers

Wikia is not accessible if you've made further modifications. Remove the custom ad blocker rule(s) and the page will load as expected.