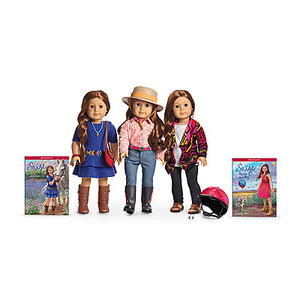 This is a list of all the items that were available for Saige Copeland. As Saige is a Girl of the Year, she and her items were only available from January 2013 to December 2013 and were then retired.
Doll
Saige came with a copy of Saige.
Outfits
Accessories
Books
Activity Kit
Movie
Mobile Apps
Debut Giveaway Item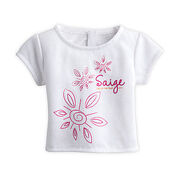 Saige's giveaway item was a white decorated T shirt.
Saige's Starter Collection
Saige's Starter Collection consisted of the doll, two books, Saige's Accessories, Saige's Parade Outfit, Saige's Parade Hat and Helmet, and Saige's Sweater Outfit for $211.
Saige's Whole World
A Whole World Collection was not released.
Ad blocker interference detected!
Wikia is a free-to-use site that makes money from advertising. We have a modified experience for viewers using ad blockers

Wikia is not accessible if you've made further modifications. Remove the custom ad blocker rule(s) and the page will load as expected.