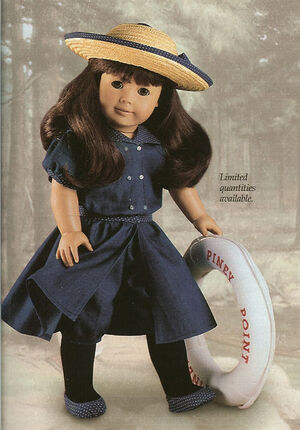 Samantha's Bathing Costume was introduced in 1997 to Samantha's Collection as a limited edition outfit. It was retired initially in 1999(?), rereleased in 2005, and finally retired in 2007(?).
Limited Edition Version
The retail cost was $28.
Bathing Outfit
Skirt
Shoes
Hat
Life Preserver
Rerelease Version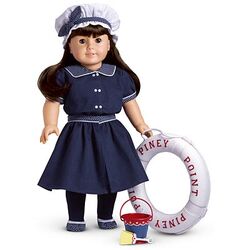 The second release in 2005, Samantha's 1904 Bathing Dress, had a retail cost of $24. It was complemented by Samantha's Beach Umbrella. A later version before retirement did not include the life preserver, bucket, or trowel.
Bathing Outfit
Skirt
Tights
Shoes
Bonnet
Life Preserver
Bucket
Trowel