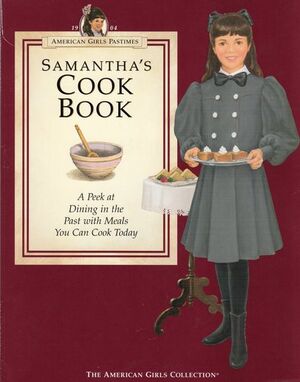 Samantha's Cook Book was a cook book focused on Samantha Parkington.
Contents
Introductions/Historical Information
Dining in the Early 1900s
Servants and Serving
Setting Samantha's Table
Tips for Today's Cooks
Breakfast
Strawberries With Cream
Ham Slice
Cheese Omelet
Saratoga Potatoes
Blueberry Muffins
Dinner
Cream of Carrot Soup
Roasted Beef Tenderloin
Mashed Potatoes
Fresh Green Beans
Corn Oysters
French Salad
Dressing
Ice Cream Snowballs
Favorite Foods
Apple Brown Betty
Jelly Biscuits
Cream Cheese and Walnut Sandwiches
Chicken Salad Sandwiches
Gingerbread
Lemon Ice
Plan a Tea Party
See Also
Ad blocker interference detected!
Wikia is a free-to-use site that makes money from advertising. We have a modified experience for viewers using ad blockers

Wikia is not accessible if you've made further modifications. Remove the custom ad blocker rule(s) and the page will load as expected.