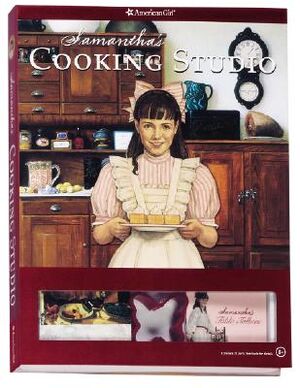 Samantha's Cooking Studio was a cooking studio based on Samantha Parkington.
Contents
Wire-bound Recipe Book
Ten reusable place cards
Maroon Plastic Butterfly-shaped cookie cutter
Twenty "table talker" cards
Book Contents
Samantha's Kitchen: Information about cooking during the Turn of the Century/Edwardian era.
Servants and Serving: The roles of different servants in wealthy households.
Setting Samantha's Table: Kitchen dining styles.
Tips for Today's Cooks: Information on food prep, based on the kitchen of the time. There is also a "Handy Hints" on a tear-out card.
Recipes
Breakfast
Strawberries With Cream
Ham Slice
Cheese Omelet
Saratoga Potatoes
Blueberry Muffins
Dinner
Cream of Carrot Soup
Roasted Beef Tenderloin
Mashed Potatoes
Fresh Green Beans
Corn Oysters
French Salad
Dressing
Ice Cream Snowballs
Favorite Foods
Apple Brown Betty
Jelly Biscuits
Cream Cheese and Walnut Sandwiches
Chicken Salad Sandwiches
Gingerbread
Lemon Ice
Party Ideas
Samantha's Victorian Tea
Craft: Victorian Scrap Invitation
Craft: Pressed-Flower Name Cards
Craft: Butterfly Napkin Ring
Recipe: Jam Tart Cookies
Recipe: Hot Tea Punch
Nutting Party
Craft: Squirrel Invitation
Craft: Walnut Shell Fortunes
Mini-Recipe: Nut-Crunch Apples
Mini-Recipe: Nut Sandwiches
Mini-Recipe: Apple Cider
Samantha's Painting Party
Craft: Framed Invitation
Mini-Recipe: Water Color
Mini-Recipe: Artist's Palette Cake
Activity: Drawing Game
Activity: Tableaux Vivants
See Also